Puppy Training
Judy, Bree and Beau
My daughter has a new border collie 'Beau' and we have both been taking him to puppy preschool for the last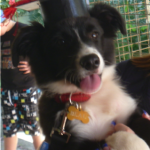 4 weeks. Debbie is great and is helping to train both us and our gorgeous puppy. Debbie helps us to understand how our latest family member thinks so it is much easier to put training into practice. Beau has learnt how to sit, drop, stay, heal and much more. Beau can test us at times and Debbie has given us the ability to start controlling his bad habits. All the puppies have playtime at the end of each session, Beau was very uncomfortable after 1st training and did not enjoy it at all, the next week he was a different puppy, loved playing with the other pups and we both think that it's important that dogs are able to socialize without fear. We have booked Beau into Primary School to continue training with Debbie. We would highly recommend All sorts to anyone wanting to have their puppy trained.
Thanks Debbie. Judy and Bree.
Eirean, Mel and Juno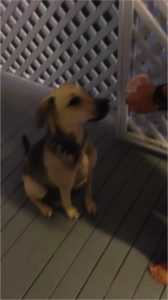 We sought help from Debbie for our eight week old puppy, Juno who had food aggression. We were worried how bad she would be once she grew into a bigger, stronger dog. Debbie showed us a range of training techniques to allow us to get food from Juno. We worked with Juno with Debbie's help and we are now able to get toys and food from her with a nice easy command.
Soren, Jamie, Arnie and Eddie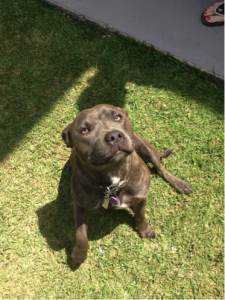 My boyfriend and I decided it would be a good idea to get 2 puppies at the same time. Little did we know how much was involved with training 2 hyperactive pups! I had read several books on how to raise puppies but we still struggled to teach them to listen to us and to not pull during walks. They practically took us for a walk each time we went out!
We decided to go to Debbie for help. When we had out initial consult I couldn't believe how much behavioral knowledge she had about dogs. I learned more about dogs talking to her for 10 minutes than I did reading 2 books! The puppy classes were structured well and easy to follow. It also gave our pups a good chance to socialize in a controlled setting. After the class our pups didn't pull as much and were much more attentive.
A few months later we called upon Deb for a home training visit due to the pups going through their digging and chewing phase, and again I learned so much about behavior as well as tips to make our home more "dog friendly" Without Deb's help we would have struggled the 1st year of puppyhood. Thank you for all your help! 
Kylie and Beau
In all the years we have owned dogs, this is the first time we have attended puppy preschool. Debbie's sessions are very informative and interesting. We have learnt a lot about animal behaviour and she has provided us with handy tips when it comes to training our pups. We have spoken with a few people who have attended puppy schools run by other businesses and they have said that they weren't very good. We recommend Allsorts to everyone we speak to.
Kylie Combe & Beau
Alan, Anna and Keyma
Our American Staffie started off at puppy school, she can be controlled, obeys commands and is very sociable. Our concern with the breed was the social interaction with other dogs, Keyma is rough but shows no aggression to other dogs. We cannot think of a single negative comment. Highly recommended.
Alan and Anna
Kim
Thanks so much for all your pointers in puppy preschool! You have a true passion for dogs and it reflects in all you do. The commands you have taught us are great and make our life with a puppy very enjoyable! Thanks heaps Debbie 
Paul
Our puppy Jackson went to puppy school at Allsorts and thanks to Debbie we were able to train him into a well mannered and behaved dog. We then used the day care frequently and found all of the staff excellent. Jackson loved going every time and got very excited when we pulled up in the car. We have since moved to the Gold Coast and have not found anywhere near the high standards of Allsorts. 
Obedience Training
Keren and Manny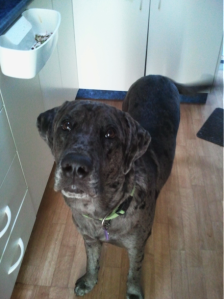 Our Bull Arab cross, Manny came to us as a stray at about 6 months old with absolutely no idea of how he was supposed to behave. We were at our wits end with him after several weeks as he did not respond to any of the methods we had always used in the past with previous dogs. In desperation we called Debbie.
On her first visit to our home, after providing us (the owners) with some well needed training, she demonstrated some of the techniques on Manny. We were completely in awe at how quickly and easily she controlled him and instructed him.  He became a calm, obedient and willing dog under her guidance.
I admit that we did find some of the training tough to follow through with at times as we are big softies with our animals, but we toughened up and when we did – they absolutely worked ! We continued under her training for the few months before she left Townsville and clearly came to understand why we were the problem – not him! Debbie clarifies all this so well, it just makes so much sense.
Whilst Manny is not perfect (he's still a teenager after all) he really only lapses badly when we don't follow through on the consistency of the training she provided. Debbie is a calm, capable trainer and her abilities as demonstrated to us through her one-on-one training are astounding.  She completely understands the dogs and is clear and concise with her instructions, to both the dog and the owners.  We were very sorry to see her leave and would certainly have continued Manny's training under her guidance for some time otherwise.
All we can say is: follow her techniques, as she instructs and there is no doubt, the most problematic animal will become a pleasure to have around.
All the best in your new city Debbie.  If you are ever back in Townsville, please call in, Manny would love to see that woman that he couldn't train! 
Danielle, Duke and Devil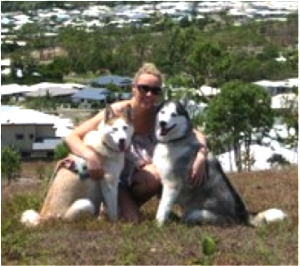 I am often complimented on how 'lucky' I am to have 2 such well behaved, calm and obedient dogs.  If only they knew them before Debbie Coleman entered our lives!  My boys are both male huskies, adopted at 1 years old… a challenge to say the least!  Having well behaved dogs has nothing to do luck, it is due to the skill, commitment and knowledge Debbie instilled through her courses.  I never could have done it without her guidance and her encouragement for me to stay consistent & never give up!  My relationship with my dogs is now amazing and I can't thank Debbie enough for the wonderful experience and for the opportunity for me and my boys to learn and grow so much through her training.  I highly recommend Debbie, she is an amazing.  Thank you so very much. 
Lauren and Max and Millie
"From day one debbie has been helpful and suportive and always going out of her way to accommodate me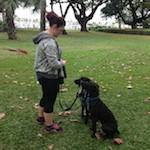 weather it was coming to my house or last minutes messages of verbal help. I have 2 ridgeback x weimaranas puppy's who are crazy at times. I used one of Debbies training packages which allowed me to have consistant training and scheduled appointments times. Debbie helped me to take control, would highley recommend debbie to everyone. Thanks for all your help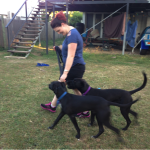 Kind regards Lauren Smith Qld
Nan and Max
Debbie has been so important in my siberian huskie's development over the past 3 years. I recommend her to every dog owner as she have given me the skills and confidence to raise this great breed and enjoy all the triumphs along the way.
Thankyou from Max and Nan.
Leisha, Russell and Jasper
Having Debbie meet with us and our big boy Jasper was the best decision we could have made – for all of us! Guided by Debbie's expertise and passion, my husband and I have learned some valuable techniques when interacting with Jasper as well as other dogs. After applying Debbie's training, Jasper has grown into a gentle, well behaved dog who is a pleasure to be around. Debbie is extremely thorough, and her follow up service is fantastic. Her passion for dogs reflects in her work. I recommend Allsorts to any fellow dog owners.  
Kim, Garry and Mylie
Thankyou so much for the help and the advise ,you have given Garry and myself, on training Mylie. We will carry your advise on .We just have to be a bit stricter with her . She tends to rule the roost , as you know haha!!!! Take good care and happiness always.
xx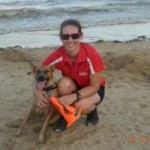 Behaviour Training
Amanda, Mark and Billie
Debbie is highly capable but also very compassionate. It was clear that she had a broad and detailed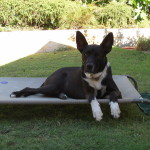 understanding of dog behaviour and willingness to help with all dog types and problems. Most importantly, she achieves results!
As a rescue dog, our 2 year old Border Collie cross had no obedience training, was poorly socialised and had been the victim of a vicious dog attack. The result of which was an erratic dog that constantly barked, pulled on the lead, jumped on people, had dominance issues and was fear aggressive with other dogs. Recommended by many friends, we decided to call in the help of Debbie and it was the best decision that we ever made! Within just a few weeks of personalised home training lessons we noticed huge improvements and by the end of the sessions it was like we had a whole new dog. Going for walks is now enjoyable, with our dog able to heel, sit and drop when commanded. The constant barking has now stopped, instead only barking when genuinely warranted. But best of all, Debbie has given us the ability to control our dog, who comes when called, has less interest in escaping the yard, car, lead and is much more disciplined and manageable when around other dogs. As a result, our dog is now much calmer and happier, has more freedom and we have peace of mind when it comes to his safety.
Based on our experience, we would highly recommend Debbie at Allsorts!
Amanda – Booragoon WA 6154
Franki , Kahleesi and Sophia
In late mid December I called Debbie from 'all sorts' who was highly recommended by my regular vet. Though Debbie was leaving town in a few weeks she managed to squeeze in some training with me and my dogs.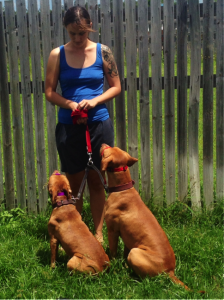 Debbie was extremely professional and from the moment I called her and when she arrived we knew that she could help us. The way she acted around my two dogs who are both fearful of people and other dogs, showed her experience.
Throughout all sessions Debbie was calm and focused. She works using positive reinforcement which for my two nervous dogs worked wonderful! There was no sign of stress from her which made myself and my dogs feel calm. After the first session the change in my dogs was very noticeable, they listened more, responded quicker and were generally just calmer.
Debbie also brought her dogs along to work with my dogs so they could build confidence around other dogs. Normally this would have meant chaos but my dogs responded very well and Debbie prepared me so I was aware of my actions to keep things running smooth.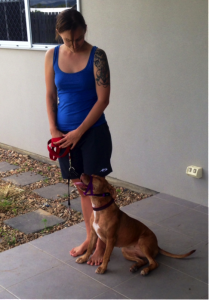 Now when we walk, both my dogs wear Halti's, which other trainers said they would never do, they are calm and look to me for guidance and are not reactive. Debbie has great training methods, time management and poise. She is prepared and professional and great with dogs
Regards  Franki

Chris, Karey and Cooper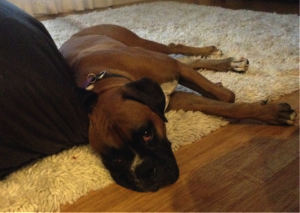 We acquired Cooper, a two year old male boxer when he was approximately 2 years old. He had had multiple homes before we found him with an uncertain up-bringing.  After having Cooper for a couple of days, it started to become clear that he had some anxiety issues.  He didn't want to let us out of his sight, he would jump 6ft + high fences to follow us every time we left the house and had what appeared to be an extreme fear of all men. A friend of mine recommended Debbie at Allsorts Dog Training and within the first week of us having our new addition to the family, we had arranged for Debbie to come and assess our situation. After just one session, some changes to how we were interacting with Cooper and some consistent training, Cooper's behaviour started to improve. It has now been 4 months that we have had Cooper and he is well and truly settled into his new home. He hasn't jumped a fence for 3 months – in fact he doesn't even bother coming down the driveway!  Debbie's advice and training has ensured that Cooper is a well behaved, happy boy – he is a wonderful addition to our family and we now can't imagine not having him.
Nicky, Soda and Foxy
We have 2 lovely dogs who after 2 years of being best friends suddenly started fighting aggressively for no apparent reason. The fights became more frequent and one of our girls sustained a nasty cut on her head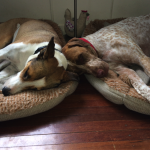 requiring sutures under anaesthetic. Our vet recommended we contact Debbie for help. Debbie came to our house for an initial consultation within a couple of days of contacting her. She is nothing less than amazing! Our dogs seemed to respond instantly to her and we immediately started work with the dogs. We had lots of homework to do but the methods Debbie taught us worked almost miraculously. We had 2 further follow up visits to check our progress and since then the girls are back to best friends.  I cannot recommend Debbie highly enough for any kind of dog training. She has a genuine compassion for dogs, even the most difficult to manage! We are eternally grateful! Nicky Cole (Soda and Foxy)
Jess, Shadow and Zeus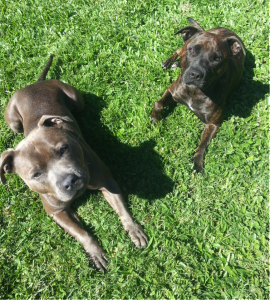 Debbie Coleman is amazing! I have just returned from an off leash adventure to the beach with a group of friends, their lovely dogs and my two Staffies, including a once very nervous Shadow. She was so well behaved, not one issue the whole time she played well with all dogs and people!
I had Debbie come to my home and work with myself, partner and  Shadow (3 years old at the time) as she was beginning to display all sorts of nervous aggression. I was at my wits end and too scared to take her anywhere. 8 months down the track, I have stuck to all training and advice Debbie has given us, and Shadow is like a new dog! I look forward to a beach trip with my dogs and friends every week now and a happy new life for Shadow.
I also took Zeus, our Blue Staffy, to Debbie for puppy school and pre-school, and I'm so glad we did. Both classes were extremely comprehensive, we learnt everything from basic care, health and feeding, and complete training sit, come, stay, heel and more. The socialisation with other dogs was also hugely beneficial for Zeus from a young age.
I absolutely recommend Debbie for anyone with a new puppy or a dog having issues. I don't know where we would be without her training and advice. I now have two happy, social and well behaved dogs.
Patrick and Oliver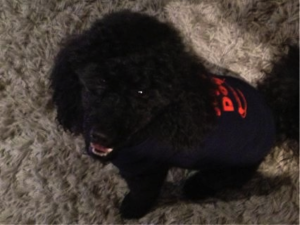 Oliver has changed from a big house and yard with his mate to a small unit and on his own and so has been unsettled recently (he was already a little neurotic). With the assistance of some training from Allsorts (more me than Oliver, I am sure), Olly has transformed to a perfect inner city dog.
Melissa and Lulu
We got Lulu as a 13 wk pup (German Shepherd x Greyhound), never walked on lead.  We took her to puppy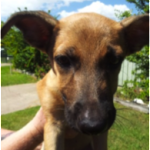 preschool through the vet and then because of moving house, she was never socialised more.  Started walking her and she became uncontrollable, pulled on lead – sore arm for me -, tried attacking everything she saw.  Gave up walking her, and she became distructive.  Chatted to vet about what to do, they suggested contacting Debbie.  We did and decided to join Debbie's night classes.  We failed them as she was more interested in barking and causing problems then learning.  We then did private one on one lessons with Debbie, she became our life saver and Lulu's.  Without Debbie's patience and knowledge Lulu would still be very uncontrollable and a problem dog.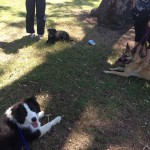 After a few lessons, Lulu could walk on lead without pulling my arm out, our next aim was to have her unresponsive to other dogs.  This took a few lessons with Debbie's champion little fur helpers.  Lulu learnt that other dogs were friends and not enemies to eat. Our last lesson was brilliant she was off lead in dog park playing.
Since then she has become a pleasure to walk, she loves playing with others.  She walks to and from school pick up/drop off and loves the attention from the kids.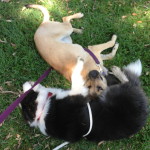 Jacinta, Johnny, Paddy and Sadie
My 2 dogs Paddy 5 and Sadie 2 have both had training with Debbie.  I found the training classes to be very informative and very easy to understand. It also gave my dogs the opportunity to learn to socialise with other dogs and with people. The dogs loved the "play time" at the end of each class.
Recently our younger dog started to display dominant behaviour towards our older dog and other dogs we would meet out on our daily walks. I called Debbie in to help us out with this issue. We had four 1 on 1 sessions with Debbie and the transformation in Sadie's behaviour was remarkable.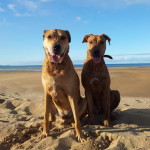 Now our dogs walk together very nicely at my side when we are out and about….a massive improvement from the usual struggle with the 2 dogs pulling me along. Sadie is less aggressive now with other dogs and her companion Paddy.
Paddy and Sadie are happy/well balanced dogs that have truly benefited from training with Debbie.
Korbie, Nigel and Tyson
We moved to Townsville 1 year ago with our German Shepherd puppy Tyson, We found allsorts online and decided to take Tyson to Primary School, and Obedience classes. They were great!! Tyson learnt all the basics and much more. However as first time owners of a German Shepherd, at home we made some mistakes and he developed some behavioural issues. So once again we called on Debbie for some at home lessons. Within 3 lessons with Debbie, Tyson was a different dog. He went from being pushy and aggressive to a loving and loveable member of our family!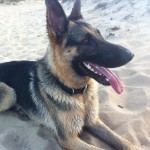 Korbie, Nigel & Tyson!
Veterinary and foster/refuge animal industry
Anja Letz
I have known Debbie for the past 5 years. In all those years Debbie was a huge supporter of our local animal welfare centre. Debbie often assisted animals in need with her knowledge in animal training and behaviour. Her methods are effective and humane. Many customers wanting to surrender animals to the animal welfare centre – but did not feel the need after they went through some training sessions with Debbie. Debbie is/was a well-known trainer in Townsville and we are sad to see her go.
Anja Letz, RSPCA Townsville Manager
Gail Lane
I first met Debbie Coleman in 2007 whilst I was managing the RSPCA Animal Shelter in Townsville.
Debbie came in and introduced herself and told me about her business Allsorts Dog Training & Behaviour. After chatting with Debbie I was very impressed by her professionalism and knowledge and was more than happy to promote her business through the Shelter.
Over time the positive feedback I received from clients that had adopted from the shelter and gone on to work with Debbie in a class situation or one on one consults was very impressive.
In 2008 Debbie asked me if I would be interested in working with her in the evening teaching Puppy, Primary and Adult classes and I jumped at the chance. I wanted to get back into training and was very impressed by the way Debbie conducted her classes.
Not long after this Debbie told me she was going to open a Doggie Day Care Centre, this would be the very first dog day care centre in Townsville.
I thought this was something that Townsville really needed. Debbie asked me if I would manage the centre for her and I was thrilled and of course said a very definite YES! I got to be with the animals I loved, and continue training every day with someone I admired and respected.
The centre and the training business grew and is, still to this day incredibly successful.
Debbie has helped thousands of pet owners work with their dogs and bring harmony and joy back to the household.
Debbie has a way with dogs that is just effortless, she has a great understanding of behaviour and reads dogs so well, it truly is very impressive.
I loved being a part of the "Allsorts family" and miss the Beach Lessons we had every weekend.
I would highly recommend anyone looking for a trainer who "knows her stuff" to contact Debbie and have chat I promise you, you won't regret it!
Gail Lane, Behavioural Assessment Manager, GAP
Townsville Foster & Rehoming Animals
Debbie has worked with many of our foster dogs and also done some wonderful lessons on Dog and puppy obedience with our carers, while Debbie was in Townsville she has become an amazing asset to the Townsville Foster and rehoming animals team, and without her knowledge, skills and amazing heart we would have been lost. Thankyou Debbie.
Kind regards,
Angela Atkinson
Director – Townsville Foster and Rehoming Animals
Chris Pretorius (BVSc) Hammet St Vets
I have known Debbie for a number of years professionally and have referred numerous clients with pets with behaviour issues to her. The feedback I received where so positive and encouraging and I can't remember a single case where no good outcome where achieved.
It was a sad day for vets , pets and owners when Debbie left Townsville. Not many days go by that I don't reach for her business card to give to clients with issues.
Dr Chris Pretorius (BVSc) Hammet St Vets, Townsville
Ruth Askey-Doran, Practice Manager – Greencross Vets
I have known Debbie Coleman for 10 years and in this time she has successfully built her dog training business – Allsorts Dog Training into a well established, well reputed business in Townsville.
Debbie's ethical and empathetic way of assisting various people, and more importantly, their dogs, has been a large part of this success.
Debbie's focus has always been on dog welfare, and enhancing the quality of dogs lives.
As the Manager of a busy veterinary hospital our staff did not hesitate to recommend Debbie as our dog trainer of choice while she resided here.
I  personally have had training with Debbie and several of my own dogs, and due to having experienced her high quality training, would not hesitate to recommend her services to anyone seeking a better relationship with their beloved Pet.
Ruth Askey-Doran
Practice Manager – Greencross Willows.
Tammy O'Grady – Vet Nurse
Working as a vet nurse, you have to deal directly with a large cross section of dogs, most of which are very much loved by dedicated owners who want only the best for their fur child.  Whenever any of our clients had a behaviour or training concern with their pet dog, we would recommend them to call Debbie.  Debbie is the only trainer in Townsville that we recommended to our clients.  I have only ever heard positive feedback about Debbie and I would notice great changes in client's dogs after that had been seeing Debbie.  Therefore, it was only natural that I took both my dogs to Debbie for training as pups and I have continued to follow all of Debbie's recommendations ever since.  They are now 4 and 3 years old and I always get comments from family, friends and strangers on how well behaved and well socialised they both are.  We were so sorry to see Debbie leave Townsville, as were all our clients that saw her.  I can say from first hand experience that Debbie is an exceptional trainer and is so friendly and easy to relate to.
Tammy O'Grady
Vet Nurse – Townsville Qld