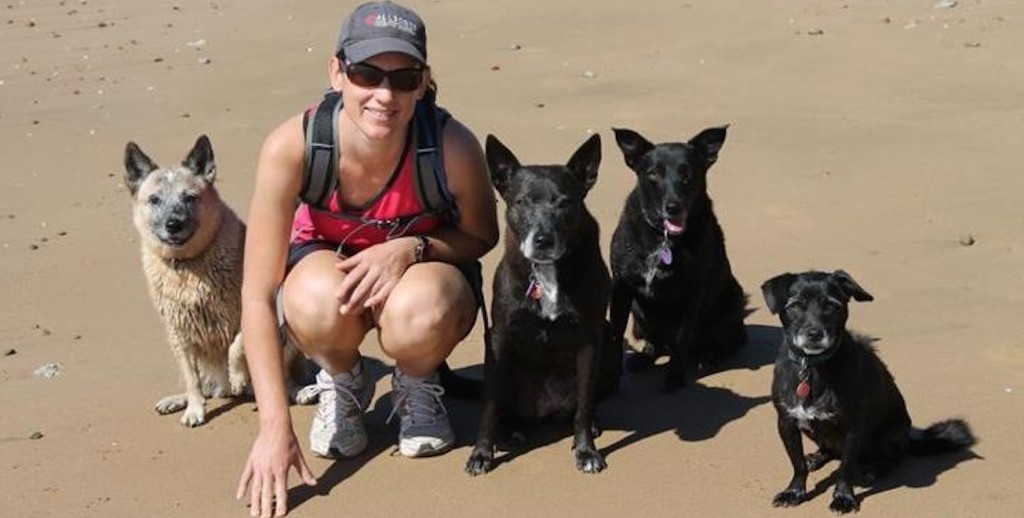 Get to know me…
After founding Allsorts Dog Behaviour & Training Services in 2003,  I taught many Puppy and obedience classes and specialised in personal behaviour training. I added a Allsorts Doggie Daycare facility to my training in 2009-2013. I have been teaching dog owners how to train their puppies and adult dogs for over 19 years.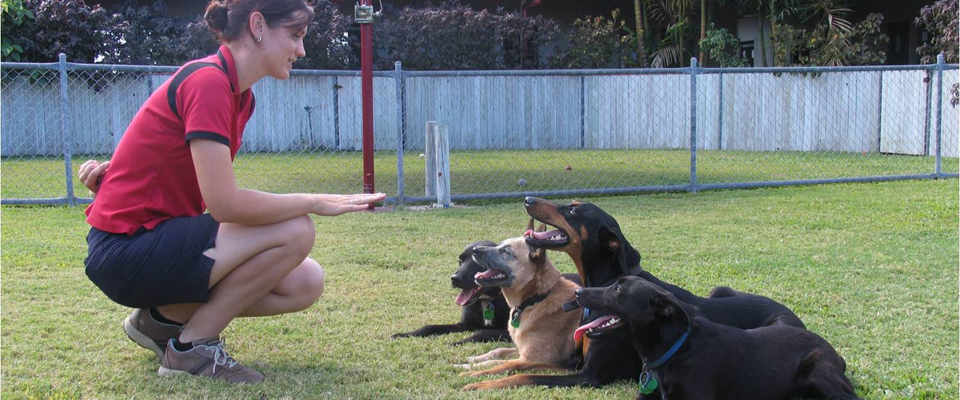 My qualifications
Bachelor of Science, 1999 (Majoring in Zoology & Animal Behaviour)
3 years Veterinary Nursing for Greencross Vets, 2000-2003, Cert 3 Veterinary Nursing
Worked for 2 years part time as a Scent Detection Dog Handler  for Blue Ribbon Specialised Services, 2002-2004
Certified Dog Trainer through National Dog Trainers Federation 2006 (NDTF Dog Training Course)
Attended APDT Australia Sydney 3 day Conference
Steve Austins Courses: Scent Detection Training Short Course, Dangerous Dogs Workshop, Motivating Miracles Workshop, Scent Work Workshop.
Dave Kroyer's: Scent Detection 2 day Workshop
IMDT Steve Whites Scent Detection Workshop
Kris Kotsopoulos, Detection and Tracking 2 day Workshop
Helen Strathy 4 week scent work course
Craig Ogilvie Interactive Play Workshop/ Understanding Body Language Seminar
Daisy Peels Agility Workshops
Stacey Goudy Agility Workshops
Megan Bell Agility Workshop
PATS Perth Trick Training Workshop
Revin It Up Agility Short Course
Over the last 19 years have completed many online courses in Agility, Scent, Rally Obedience, Obedience, Hoopers and many more from trainers: Susan Garret, Daisy Peel, Denize Fenzi, Red Dog, Canine Education Australia, Nando School of Science, Dave Kroyer, Ryan Tate, Petfitphysio, Beyond the Broomstick.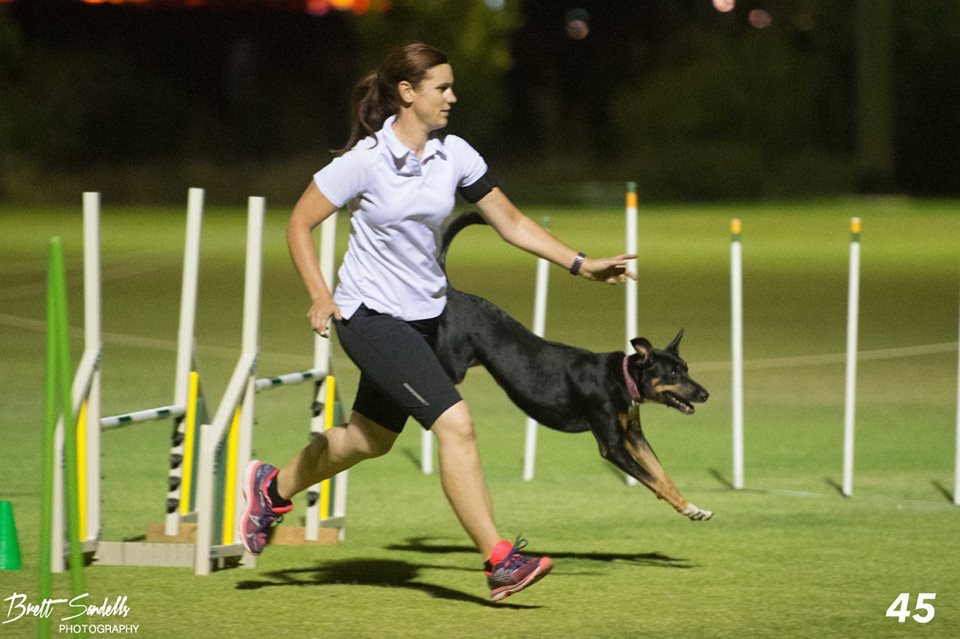 My experiences
Demonstrations and speeches at Animal Expo Townsville 2003

Two dog behaviour and awareness seminars for Northern Queensland Mosquito Council Conferences
Presentation on dog behaviour for the Northern Queensland Veterinary Nurse Annual Conference 2011
Numerous annual demonstrations at RSPCA events
Founded Northern Queensland K9 Sport Club for 4 years, teaching agility and flyball
Three radio interviews for local Townsville stations
Two interviews for local WIN news 2009, 2012
9 newspaper articles, full interviews or opinions on dog related topics
Built, organised and ran a dog agililty and flyball club in Townsvile for 4 years
Demonstrations at Council fun dog park days
Presentation at open day for Greencross Vets Central Hospital
Foster parent puppy courses and free training for animal group Townville Foster & Rehoming Animals
Currently competes her two rescue dogs in Agility, Rally Obedience, Obedience, & ANKC Scent Work.
Attends numerous courses, workshops and Seminars every year to further her education.
And many more…..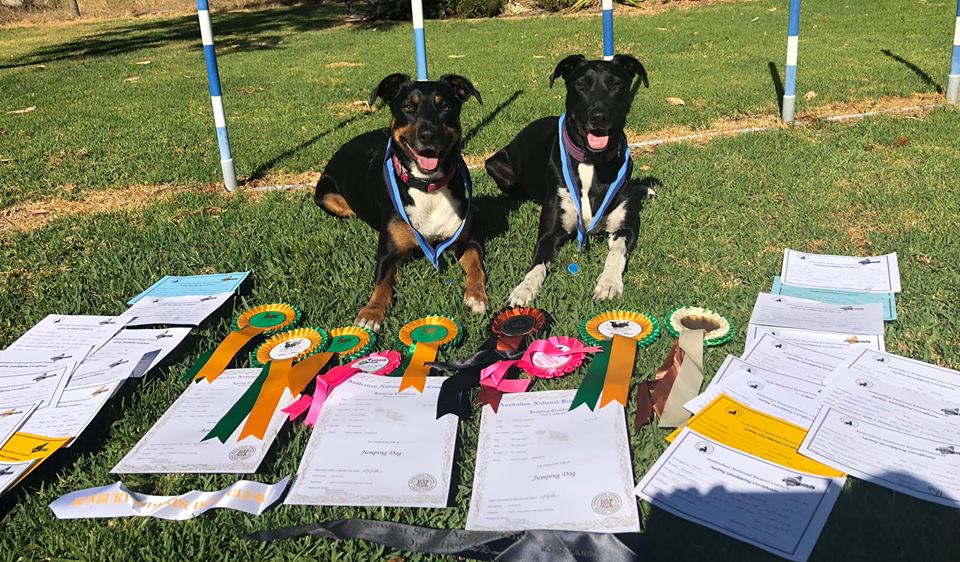 My approach and methods
My approach is more aligned with holistic dog training. My goal is for the owner to gain the ability of compliance from their dog because of a relationship based on mutual trust, understanding and respect, not one based on dominance, fear or submission.
I encourage training that is realistic and based on what you want to achieve, methods that work and are practical. I also like to make the training easier for the dog to comprehend and for you to follow through.
Training needs to cater for your everyday lifestyle and there are so many little things you can do that takes minutes rather than hours to contribute towards better behaviour. I want you to understand your dog better, for they function completely differently than we do, and  then you will be better at communicating and will develop a stronger bond with your companion.
I use a variety of reward based methods, enforce gentle structure into your lives and mostly use training aids such as flat collars, martingales, halties and training harnesses.