Obedience and Manners for the Adolescent/Adult Dog.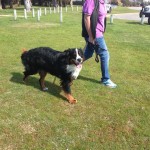 The course provides a basic understanding on dogs body language and communication, improving your training techniques and teaching your dog in an easier fun way. The course consists of 6 lessons completed over 6 weeks and is for dogs over 9 months of age!  Reward based methods are used throughout the training course. 
You will learn:
General manners, such as jumping up and relaxing on leash, and practical obedience to help improve your lifestyle with your dog at home and outside in different fun environments.
Walking on a loose lead, basic obedience, Sits, focus, Down, Stays. Improving these each week by working through the three D.D.Ds, Duration, Distance and Distraction.
Short & long lead recall
Walking challenges such as passing other dogs and weaving changing pace
Confidence Building exercises
Emergency Stop
Leave it command and settling on a bed
Games and play
PLEASE NOTE: If your dog displays any AGGRESSION towards other dogs please contact the trainer first and discuss BEFORE booking, thank you kindly.
For dogs over 9 months of age. 
6 x 1 hour Lessons, 55 mins of training with a 5 minute recap and discussion of homework.  
Course Cost: $300
Venue: Calabash Kennels and Cattery: Training Centre
27 Calabash Road, Arcadia NSW 2159.
Schedule and Registration