Let them use their sniffer!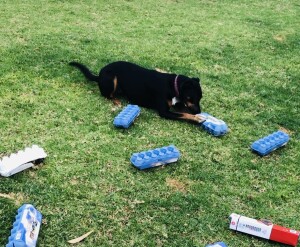 Welcome to the world of scent work! Although its been around forever, it's a new and extremely fast growing competitive sport and enjoyment exercises for a companions.  Not only is it fun for both parties, but we all are seeing the benefits in our dogs for many issues such as anxiety, boredom, those with excess energy and the huge amounts of mental stimulation it provides.
This 6 lesson course will provide the essential foundations in scent work and is especially orientated, but not limited, to those wanting to compete in ANKC Scent work.
6 week course run at the Calabash Kennels Training Centre
$300, plus $30 for ANKC starter kit for those wanting to compete
Small numbers per class, dogs worked one at a time
You will be taught the fundamentals of the science of scent, how dogs smell and sees the world in 3D
You will learn how to introduce imprint by scent association,  use the three D.D.D (Distance, Duration and Distraction) and apply discrimination
You will learn to read and work with your dog with a higher level of understanding
A few different training methods will be supplied so we can suit your dogs abilities the best
You will learn how to shape indications and about box, interior/exterior and vehicle searches
Is great for anxiety, or even nervous dogs, all dogs are worked one at a time
Doesn't matter what breed, age or lifestyle you have (if your dog is reactive please contact trainer before registering for the course)
Can be trained inside or outside, so not weather dependent nor does it require a huge amount of expensive equipment
No prior obedience or training required
Venue:  Calabash Kennels and Cattery: Training Centre
27 Calabash Road, Arcadia NSW 2159.
For all enquiries and questions, please email the head trainer, Debbie.
Schedule and Registration
*Private Scent Work classes available.
Fun examples of scent work: