Puppies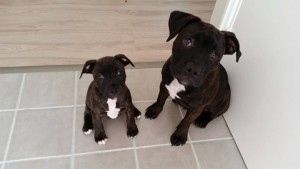 Congratulations on your new bundle of joy and welcome to the world of puppy parenthood. If you haven't already you will discover the trials and tribulations as you travel through the world of 'Puppydom'.
An understanding of dog behaviour with a qualified trainer will integrate your puppy into the family and have a positive and enjoyable relationship with your right from the start. It is much easier to teach your puppy the right thing from the beginning than it is to change it later on.
With the Home Puppy Package I can help you as soon as you have your puppy or even prepare you for the arrival of your new family member. This puppy package generally is for pups under the age of 5 months.
Initial lesson: 1.5 hours ($230)
Returning lessons: 1 hour ($200)
4 lesson discounted Puppy Package: $750 (discount of $80)
(Please note: This home training Puppy Package does not replace socialisation with other puppies and dogs)
---
Obedience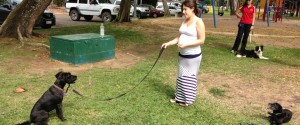 With the convenience of lessons conducted at your home and surround areas, this is a quick productive way to learn obedience and general manners specific to your lifestyle and needs. This package is for dogs over the age of 5 months but does not cater for behavioural problems.
During the initial personal lesson we talk through what you would like to achieve and any problem areas and we make a plan outlining the appropriate stepping stones for training. We discuss general dog behaivour and methods and how we can make this a positive and fun experience for both your family and your canine friend(s).
Lessons our hourly with the initial one conveniently at your house. Any following lessons can be conducted at an area of your choice, your home again, the local park, street or even the beach! During the following training sessions we simply see how things are going, address any questions and progress with the training.
Obedience lessons covers: Walking on leash, recalls, Sit/Down/Stays, jumping up, manners at home, place training, food manners and impulse control exercises. * Does not cover behavioural problems.
Hourly lessons $200
3 lesson discounted package $550
---
Personal private lessons at Calabash Kennels
Personal obedience or puppy lessons can be carried out at the training facility at Calabash Kennels. Calabash is a well establish pristine kennels with both an indoor and out door training centre. Prices are reduced due to lesson travel for your trainer.
Calabash Kennels and Cattery
Hourly lessons $160
---
Behaviour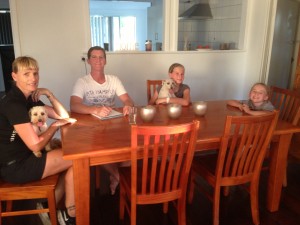 There are many causes and reasons that contribute towards behavioural problems. I believe in gaining a thorough understanding of the history, genetics, environment and health of the dog to help us with the recovery process. No dog (or owner) is the same, so their reactions and expressions of behaviours are always on an individual level therefore every situation is different and needs to be treated carefully.
There is no simple cure for any behaviour problem, it is very important that the cause of the problem is addressed, not just the symptoms. And often in cases there will be more than one issues that needs to be addressed.
During the initial consult we sit down and talk through the problems/issues you and your dog(s) are experiencing and the relevant history. We then discuss the solutions and what outcomes we would like to work towards. This is followed up by making a plan that outlines the appropriate stepping stones for training.
We also discuss general dog behaivour and methods and how we can make this a positive and fun experience for both your family and your canine friend(s). This first lesson is usually 1.5-2 hours and is conducted at your home. The following lessons are  hourly and usually at your home again or in your local area, such as a local park, depending on the behaviuoal issue(s).
If we need to incorporate other dogs for example if dealing with fear aggression (dogs) then I will bring my canine companions that have helped me rehabilitate other dogs for over ten years (see photo).
Behavioural problems include ALL aggression, separation anxiety, barking, resource guarding, any reactivity, destructive behaviour, teenager/adult mouthing, escaping and more..
Initial Behaviour lesson 1.5-2 hours: $270
Returning 1 hour lessons $200
4 lesson Behavioural discounted package $800
---
*No private lessons on Saturdays due to training classes.
**There is a $100 surcharge for Sunday bookings.
***All prices include up to 2 household dogs. Extra house dogs takes more time and will be extra.